The D-538 is a vehicle in MudRunner.
Overview
[
]
The D-538 is an all-wheel drive tractor added as part of The Ridge DLC released on May 29th 2018.
The D-538 is an offroad tractor mainly used for logging and hauling.
Pros
[
]
Large tires make it easy to roll over rocks and fallen trees.
Able to equip crane and medium log trailer at the same time
Heavy weight allows it more traction in mud
Cons
[
]
Low front bumper can get caught on higher bits of terrain
No body flex makes some tasks more difficult.
Bad power to weight ratio means climbing inclines and hauling big loads difficult
Very slow steering makes high speed handling atrocious
A very slow vehicle due to the power to weight ratio
Uses slightly more fuel over the same distance when compared to something like a K-700
Big offroad tires combined with no suspension travel and always locked diff means it has handling issues on paved roads.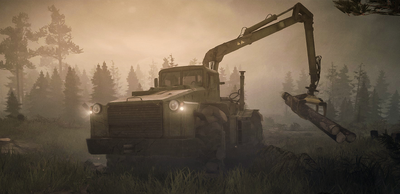 Addons
[
]
Fuel Canisters - Able to carry 120 liters of Fuel
Fuel Trailer - Able to carry 900 liters of Fuel
Garage Trailer - Able to carry 2 Garage Points
Loader - Able to load Logs onto a trailer
Medium Log Trailer - Able to carry Medium Logs (with The Valley DLC installed)
Short Log Trailer - Able to carry Short Logs
Spare Wheel - Able to carry 120 Repair Points
Utility Trailer - Able to carry 300 liters of Fuel, and 400 Repair Points
How to obtain
[
]
The D-538 takes 4 balance points to be used. It comes as a standard starting truck on The Ridge and spawns on most maps.