This article covers a truck in MudRunner; for another truck based on MAZ-537 from SnowRunner see: ZiKZ 605R The D-537 is a vehicle in MudRunner.
Overview
[
]
An 8x8 monster that specializes in rescue operations. Features all-wheel drive and diff lock, and can pull even the heaviest loads through the toughest terrian. Has 600 Litres of fuel capacity and is able to take 800 points of damage. The main downside to the D-537 is the extreme fuel consumption, and the ability to haul only small log loads. The D-537 is fairly slow and steering is somewhat unresponsive due ot its large wheels. Requires 5 Completion Points.
Pros
[
]
It has more pure pulling power than any 6x6 due to the high grip tires and extra axle.
1 more attachment then the D-535.
Cons
[
]
Uses a lot of fuel in AWD.
Has trouble on very steep hills and very tight spaces.
Can be a bit fragile if not driven carefully.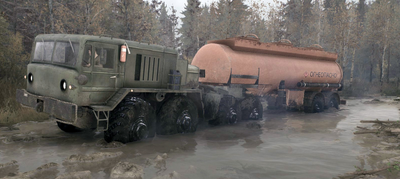 List of available attachments
[
]
Fuel Semitrailer – Trailer that carries Fuel (No longer available in the game)
Garage Semitrailer - Carries 4 Garage Parts
Garage Parts – Carries 2 Garage Parts
Garage Trailer – Trailer that carries 2 Garage Parts
Log Carriage – Trailer that carries Short Logs
Short Log Trailer – Carries Short Logs
Spare Wheel – Can repair self
Trailer Hitch – Allows trailers to be pulled
Utility Trailer – Can repair other vehicles