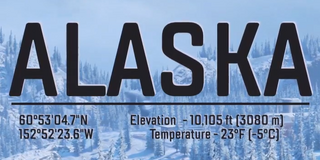 The Alaska, USA is one of 3 (9 including current DLC) available regions in SnowRunner. The first to feature new snowy setting in the franchise. The region contains 4 different interconnected maps, those are: Pedro Bay, Mountain River, North Port and White Valley.
The harsh Alaskan wilds were always a desirable, if difficult target for many oil companies. These days, an oil tycoon by the name of "Black Bird" has laid their claim on the large deposit of the black gold hidden deep under the showy plains. Scattered with oilrigs and covered in an intricate web of petrolium lines, the region is still a constant source of new challenges for the company, and with them, employment for freelance truckers.
- In-game description
Description
[
]
The Alaska region is based on Alaska state of the United States. It may be based around the real-life settlement of Pedro Bay, which is in southwest Alaska on the shore of Iliamna Lake. In particular, the airdrome of White Valley may be based on Pedro Bay Airport.
The region has the most usable paved roads in the game, making use of highway-class trucks a viable option for some missions. However the player will still need to venture off-road to complete many of the objectives. Some of the roads are covered with ice, and players will note that chained tires may be extremely helpful there.
In addition, some useful vehicles can be unlocked and obtained for free in Alaska, including the Hummer H2, ANK MK38 and Royal BM17.
Maps
[
]
Objectives in the region
[
]
Contracts
[
]
GR Enterprise

Far Far Away

Cargopocalypse, pt.2

Cargopocalypse

Order Master Supreme

Timber!

Port Polar Base Supply

It's a long way to the top

Village Delivery

On The Top Of The World

Mountain Maze

Airdrome logging

Town Supplies

Valley Polar Base Research

Oil Barrels Delivery

Black Bird

Oil Delivery

Pipeline Repair

Mountain Delivery

More Parts

Drilling Equipment

Mountain Pipeline Building

Drill Rig Disassembly

From Water To The Land

Valley Pipeline Building

Drill Disassembly

Fire In A Barrel

Drilling Parts Delivery

Floating Drill

Morisson Mining

Drilling Supplies

Cargo Delivery

Lumber Mill Supplies

Supply Crates
Tasks
[
]
Abandoned Supplies

Bags On Ice

Building Bridge

for

Steel River Township

Can't Go To Waste

Delivery Crates

for Husky Forwarding

Delivery Drill

for Husky Forwarding

Delivery Pipes

for Husky Forwarding

Drowned Hummer

Find Truck

for Steel River Township
Fuel Order for

Dyson Diesel

Lost Service Trailer

Material Order

for Dyson Diesel

Metal Bridge

Oil Tank Delivery

Power Lines Check

Reach Destination

for Dyson Diesel

Repair Lumber Mill

for Steel River Township

Resupply Cabin

for Husky Forwarding

Stuck In The Mountains
Contests
[
]
Rally Meeting Point

West Mountain Conquest
Collectibles
[
]
Vehicles
[
]
Upgrades
[
]
Engines
High-range gearbox, Advanced Special gearbox
Suspension